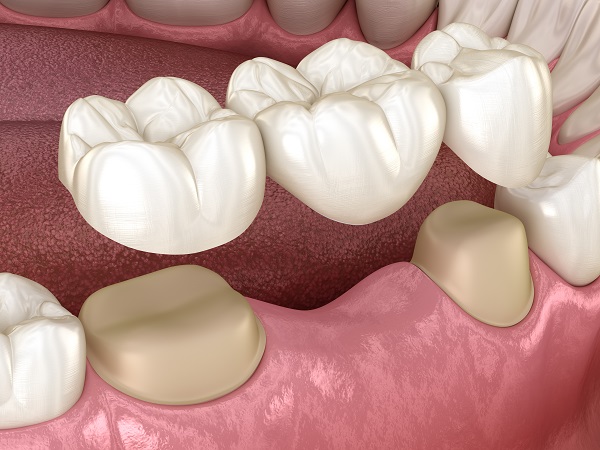 When a person has a missing tooth, one of the quick and affordable options they might consider is a dental bridge. Missing teeth affect daily dental functions and social interactions. This article covers what a dental bridge is, how it works, and how a bridge addresses a gap in the smile due to missing teeth.
How a dental bridge works to replace missing teeth
A dental bridge is an artificial tooth-replacement that closes the gap left by a missing tooth. It is connected to the nearby teeth (called the abutment teeth) and may be designed to be fixed or removable. They are fabricated from different materials such as ceramic, composite resin, or acrylic, and can last for many years with proper care.
Getting dental bridges
There are a few options available when it comes to dental bridges. For the procedure, the dentist will take impressions and make a model to produce an accurate replica of the lost tooth. Two crowns will also be created for the abutment teeth. For this, a layer of enamel will be removed. When the dental bridge is ready, the dentist will fit the crowns and bond the bridge to them.
Since the bridgework is permanent and attaches to the nearby teeth, patients need to take adequate care of them. If a removable bridge is used, the patient will be able to remove the retainer for cleaning. The cleaning routine is different, so patients will have to ask the dentist how to clean the bridge properly to prevent oral issues.
Eligibility for a dental bridge
It is necessary to replace a missing tooth because the consequences of not doing so are significant. Normal dental functions become challenging, and smiling is more awkward. A missing tooth can also affect the surrounding teeth and the underlying jawbone.
The teeth rely on each other for support and chewing. Once a tooth is lost, other teeth have to bear more of the workload, which can cause cracks in adjacent teeth, as well as deterioration of the underlying jawbone. By replacing the missing tooth, a patient is restoring their smile, oral functions, and the structural integrity of their oral cavity.
Bridges are effective for the replacement of multiple missing teeth, as well. They are an affordable solution that can be repaired or replaced at a reasonable cost. If the adjacent teeth are in good condition, a removable bridge can be used to replace the lost tooth, allowing patients to provide adequate care for the remaining healthy teeth.
Also, if the teeth next to the dental bridge are structurally compromised, placing a crown over them can provide the necessary reinforcement required. There are many scenarios where bridges are preferred. For instance, if a patient cannot undergo complex dental procedures, the dentist might recommend this option to restore their smile.
Ready to replace your missing tooth?
Dentists use dental bridges to address gaps caused by missing teeth. To learn more about the procedure, or get answers to your questions, contact our dental office today to book an appointment.
Request an appointment here: https://uptownnycdental.com or call Uptown Dental Group at (646) 693-0625 for an appointment in our New York office.
Check out what others are saying about our dental services on Yelp: Dental Bridges in New York, NY.
---
Related Posts
September 1, 2022
A loose dental bridge can occur for many reasons, including excessive wear and tear, damage to the abutment teeth and periodontal concerns. The sooner that you can detect a loose or …