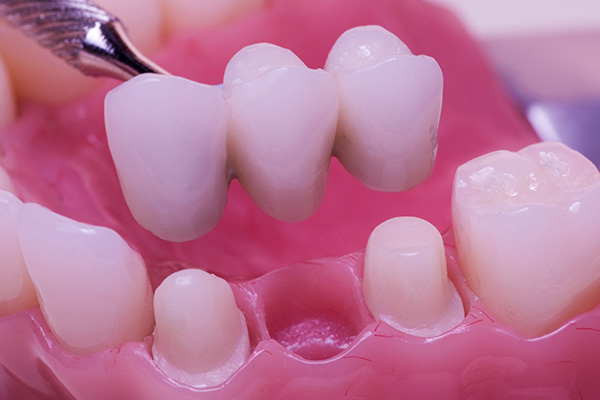 Are you considering a dental bridge because you are missing some of your teeth? Or maybe thinking about dental implants? When missing teeth, it is necessary to find a tooth replacement option so that you can continue to be in good oral health. There are a few things that are important to consider when looking at options to replace missing teeth, including whether or not the missing teeth are in the front or in the back of the mouth. This information will be used to determine what type of tooth replacement option is best. One, in particular, is a dental bridge, which is a versatile tooth replacement option.
A dental bridge or a dental implant?
Those who are missing teeth need to decide between getting a dental bridge or a dental implant. Below are the key differences between the two.
Dental bridge:
A dental bridge is a dental device that is placed in an empty space within the oral cavity, which means it is placed between the remaining teeth that are still present. The bridge includes a false tooth and is connected to the neighboring teeth in order to hold it in place.
Why choose a dental bridge? Dental bridges are a less invasive procedure, which means it allows for faster healing. Dental bridges are also suggested when the neighboring teeth are in need of crowns. It works by keeping the remaining natural teeth in good shape, thus encouraging good oral health.
Dental implant:
A dental implant closely resembles a natural tooth, including the root. A dental implant is surgically inserted into the jawbone, which allows it to act as a natural tooth. The reason why dental implants are a common choice for those who are missing teeth is that the connection to the jawbone stops it from deteriorating.
As soon as the implant root is fully healed into the jawbone, an experienced dentist will then put a custom-made cap on top of the implant, making the implant look like a natural tooth. Why choose a dental implant? Dental implants are great when it comes to supporting jaw bone health, they are more aesthetically pleasing and they can last for upwards of 10 years, with the appropriate care.
Which solution is right for you?
Were you able to make the choice between getting a dental bridge or a dental implant? Now that you understand the differences between dental bridges and dental implants, you are able to choose which solution is going to meet your particular tooth replacement needs. If you are still not sure which solution you should choose, feel free to call us and ask any more questions that you may have. We are always available to answer questions that patients have about their oral health because our dental team truly cares and wants to help. We hope to hear from you soon!
What's the bottom line?
Call (646) 693-0625 today to reach Uptown Dental Group.
Check out what others are saying about our dental services on Yelp: Dental Bridges in New York, NY.
---
Related Posts
September 1, 2022
A loose dental bridge can occur for many reasons, including excessive wear and tear, damage to the abutment teeth and periodontal concerns. The sooner that you can detect a loose or …